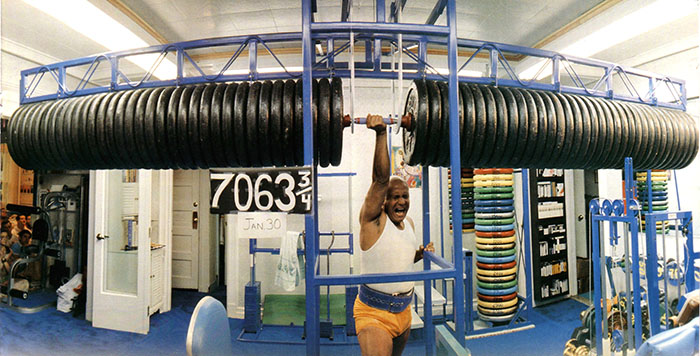 On January 30, 1987, Sri Chinmoy lifted a weight of 7,063¾ pounds using only his right arm. It was an achievement that challenged the limits of human possibility and it shook the world of weightlifting.
Sri Chinmoy was not a professional weightlifter, and he was certainly not built for the task. At 5 feet 8 inches high and weighing only 162½ pounds, he was far from the imposing muscle-bound figure one would expect. And given his age of 55 years, he was a most unlikely person to be attempting to lift such massive weights. He was, however, a great spiritual master, a man of adamantine will who had absolute reliance upon God's Grace.
"If I ask my mind whether I can lift 7,000 pounds, immediately it will say, 'Impossible!' … But when I am in the heart, with the heart and for the heart, there is no such thing as impossibility because of the heart's oneness."  — Sri Chinmoy
(Excerpt from a 1993 press conference.) Read more...
Sri Chinmoy's lift of 7,063¾ pounds was not an easily won victory. Over a 19-month period, from June 26, 1985, when he first began serious weightlifting, Sri Chinmoy trained daily, performing multiple sessions of intensive strength-building exercises, enabling him to progressively lift heavier and heavier weights.
As each goal was reached, his determination increased. One lift, in particular, illustrates Sri Chinmoy's never-give-up philosophy — it took him 214 attempts before he finally succeeded in lifting a 303¼-pound dumbbell.
Sri Chinmoy's progress was nothing short of exponential. It was 17 gruelling months before he finally lifted more than 1,000 pounds. Then 2½ weeks later on November 27, 1986, he broke the 2,000-pound barrier, and on January 20, 1987, a lift of over 3,000 pounds was achieved.
Sri Chinmoy was the first spiritual master in history to directly challenge the inertia and inconscience of the material world through the discipline of weightlifting. His miracle lift of 7,063¾ pounds was, and will forever remain, a triumph of the spirit over matter.
---
Notes:
Read an article about the construction of the 7,063¾-pound weight, Building a Modern Juggernaut
View the musical score of the song composed by Sri Chinmoy
Read an article about the View lift, Worlds Where Matter And Spirit Meet
Read an early, first-hand account of Sri Chinmoy's Weightlifting Adventure
View each of Sri Chinmoy's major lifts, from 40 lbs. leading up to 7,063¾ lbs., at Sri Chinmoy's Weightlifting Anniversary.