Preface
In this rare collection of photographs from the years 1944-1964, we see the young Chinmoy blossom spiritually. An extraordinary luminosity is reflected in his eyes and, as the time of his eventual departure from the Ashram draws near, he seems to brim with vast inner gifts waiting to be manifested.
The provenance of most of these photos is not known, unfortunately. They have been gathered from various private collections of Sri Chinmoy's students and, with the exception of a handful, there is no indication of the year in which they were taken.
– Vidagdha
Table of Contents
 
1. Earliest Photo
Sri Chinmoy referred to this as the "sugar cane photo". In the original (still to be located), he is standing with three friends in front of a field of sugar cane. This photograph was taken during his teenage years.
2. Relaxed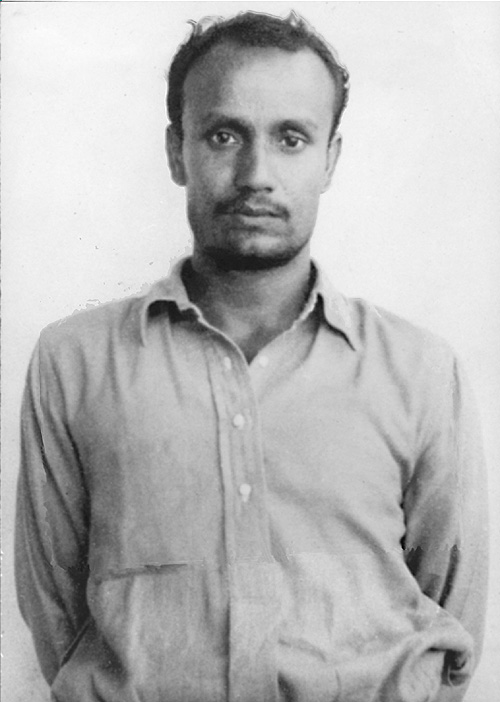 This photograph shows Chinmoy in a relaxed mood.
3. Among Friends
In this formal portrait, Chinmoy (second from left) is seated with three other Ashramites. His closest friend, Jyotish, is on the far right, but regrettably we cannot identify the other Ashramites in the picture.
Here Chinmoy is standing behind his friends Nabin (left) and Jyotish (right).
This photograph, reproduced from an Ashram magazine, was taken in 1958 when Werner Haubrich (known in the Ashram as Saumitra) came from Germany to coach the younger Ashramites in athletics. Chinmoy is seated in the middle row on the extreme right. The original caption for this photograph reads: "Mr. Haubrich explaining the fundamentals of running."
Chinmoy and Sam Spanier, 1963. While on a visit to the Sri Aurobindo Ashram, Sammie happened to meet Chinmoy and he was deeply impressed by the young man's spiritual wisdom. Sammie invited Chinmoy to come to America and he offered to become one of Chinmoy's sponsors.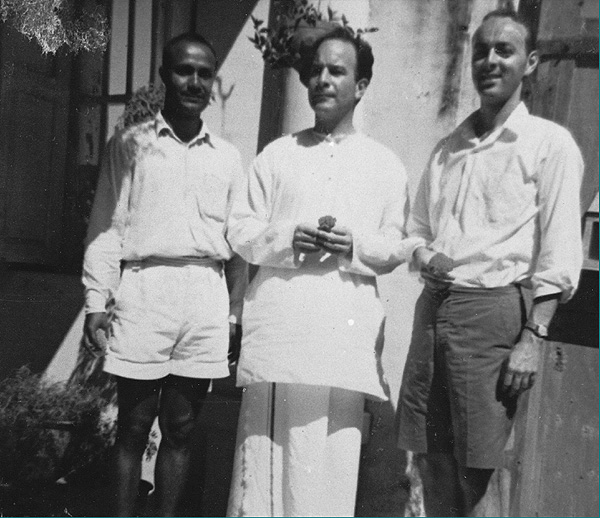 This photograph, also from 1963, shows Chinmoy with Sam Spanier and Eric Hughes, two of his American friends from the Ashram. He stayed with them in Greenwich Village when he first arrived in New York and later visited them regularly at 'Matagiri' in Woodstock. He maintained his friendship with them throughout his life.
4. Inner Experiences
At this ornamental pool located in Bharati Park, Pondicherry, Chinmoy had many significant inner experiences. [From the private collection of Gariyasi Bruner]
5. With Nolini Kanta Gupta
This historic photograph shows Nolini Kanta Gupta (the General Secretary of the Ashram) and K. Amrita (the General Manager of the Ashram) sitting side by side. Behind them are their secretaries: Chinmoy, the main assistant to Nolini-da, and Kalipada, the main assistant to Amrita-da. The photograph was taken on Chinmoy's 31st birthday – August 27th, 1962 – at his fervent request.
The story behind the photograph is recounted by Chinmoy in his Ashram diary:
Early in the morning I went to Nolini-da and made my most devoted pranam to him. He was very pleased. At noon I went to Amrita-da and told him that I would like to have a group picture with him and Nolini-da.

Amrita-da said: "With Nolini? Has he agreed?"

"Yes, he has agreed. Only now I need you."

"Is Nolini ready?"

"He is," I said.

"If Nolini is ready, I am already ready. Come along. Let us make you immortal or let you make us immortal on your birthday."

Indeed, it was a classic picture. Nolini-da and Amrita-da were sitting in chairs. I was standing behind Nolini-da and Kalipada-da was standing behind Amrita-da.1
Missing photograph: On January 13th, 1963 – Nolini-da's birthday – another photograph was taken in which Chinmoy and Nolini-da are shown together. Unfortunately, it has not yet been located. This is Chinmoy's account of that occasion:
The photographer Vidya Brata came in to take pictures. He took two pictures of Nolini-da and then Nolini-da said: "Now I wish to have a picture with Amrita. Chinmoy, go and call him."

I called Amrita-da, who immediately came. When Amrita-da and Nolini-da stood side-by-side, Indu-di (Nolini-da's wife), standing at the door of Bula-da, said: "Look, look! Ram and Laksman being photographed together!"

Amrita-da immediately said: "True, we are Rama and Laksmana, but Laksmana has to deserve Rama."

Indu-di said: "You do deserve Ram."

Nolini-da gave a broad smile. Amrita-da immediately left for his Tamil class.

Indu-di had a strong desire to have her picture taken with Nolini-da. I pleaded with Nolini-da to let himself be photographed with Indu-di and he agreed. I then went into Amrita-da's room to work. Indu-di came in and said: "Chinmoy, what are you doing here? Your Dada wants you to be in a picture with him."

Sushila came to greet Nolini-da. Nolini-da said: "Sushila, join us, join us."

Sushila said to me: "Chinmoy, don't be so serious. You will ruin the picture. Don't be so serious! Smile!"

The photographer immediately echoed her. Before the photograph was taken, Nirmala-di and Anima-di came in. Nolini-da asked them also to join.

Nolini-da said to us: "This morning I received a blessingful message from the Mother. It says: 'Victory of the Truth'. I wish to say, 'Victory of the Mother'."

That evening Manoj read out the English original of my poem on Nolini-da in the playground.2
6. At Sri Aurobindo's Samadhi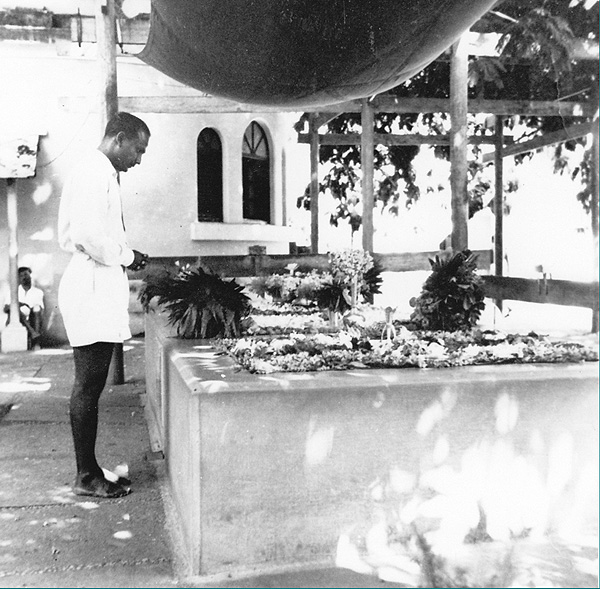 Here Chinmoy meditates before Sri Aurobindo's Samadhi.
7. Chinmoy's Passport Photograph
This beautiful and significant passport photograph was taken just a few weeks prior to Chinmoy's departure from Pondicherry. Some years later, he commented that it represents Luminosity.
8. Not Long Before Leaving Pondicherry
This photograph was taken not long before Chinmoy left for Madras (from where he was to catch the plane to America). He has just finished dismantling his room and packing his humble belongings into boxes. He has yet to make his heart-wrenching farewells to his beloved brothers and sisters. The date is March 1964.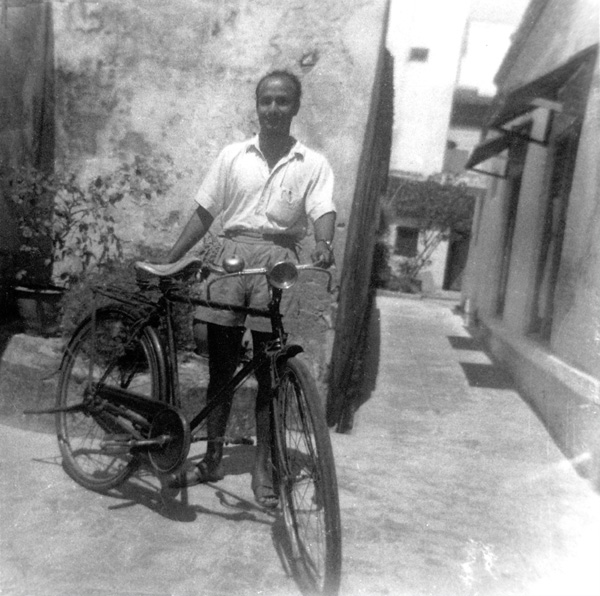 This photograph was taken just prior to Chinmoy's departure. He is shown with his trusty bicycle, which he used to deliver messages from the Mother to various Ashramites and also to perform errands for Nolini-da.
Chinmoy wearing a suit and tie, possibly for the first time. He is 32 years old and ready to start a new life in an unknown land. [From the private collection of Dhrubha Hein]
Endnotes:
1 Sri Chinmoy, A Service-Flame And A Service-Sun, Agni Press,1974.
2 Sri Chinmoy, A Service-Flame And A Service-Sun, Agni Press,1974.