October 11, 1972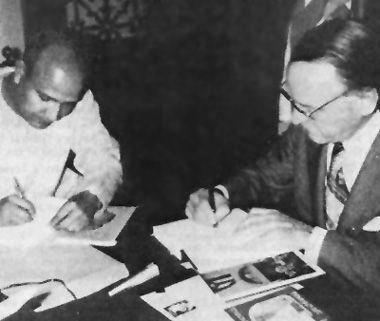 When you pay a visit to the Governor, what do you go to see? A politician, an executive officer. Now, when you visit Governor Ferré of Puerto Rico, in addition to the executive and the politician you will find the artist, the philosopher, the engineer and the philanthropist. Fluent in three languages – Spanish, French and English – he has a very profound culture and a deep-felt interest in human needs and endeavours – not only the outer needs for food and shelter, clothing and diversion, but also the profound and most compelling needs of the human soul for peace, love, contentment and beauty. He has donated a beautiful museum to his native Ponce. "Happiness," he told Sri Chinmoy, "does not come from earthly possessions but from inner wisdom. So you are most welcome to our island to infuse your wisdom and inner knowledge to our people so that they can raise their consciousness to the level where they can find true happiness and self-expression in a fulfilling and creative life."
The Governor asked Sri Chinmoy about his mission. When Sri Chinmoy explained to him that his teachings are not dogmatic and do not reflect the views of any particular sect, but show his followers a direct path to God through love, devotion and surrender, the Governor was delighted. He showed him some books he was reading, written by Indian authors, in which atman and Brahman were explained. He showed his familiarity with philosophy, Indian as well as Occidental, and admitted frankly that Indian thought is the root of human wisdom.
The Governor presented Sri Chinmoy with one of his books, The Human Endeavour in Spanish, and was delighted to notice that one of the books presented to him by Sri Chinmoy carried the same title. He read excerpts from his speeches in which he has told the people of Puerto Rico that the spiritual part of their beings has to be developed if real happiness is their goal. Sri Chinmoy told him that that was the reason for his visit. He had seen the Governor's soul bathed in spirituality and love for his people. "I see in you a dedicated heart and a most illumined mind at the service of your people," Sri Chinmoy told the Governor.
During the interview the Governor was continuously enthralled by Sri Chinmoy's work. He thumbed the pages of the books of Sri Chinmoy's lectures at universities. Harvard especially made his eyes glitter. "We have to strike a balance," said the Governor, "between the teachings of the East and those of the West." Sri Chinmoy replied to this, "We have to find a balance between the heart and the mind, the Indian spiritual feeling and the dynamism of the West."  
The Governor was so inspired by Sri Chinmoy's presence that he played for him on the piano. It was one of Liszt's works. The beauty, serenity, firmness and quick tempo of the piece reflected the Governor's exquisite sensibility, power of manifestation and living dynamism. While the Governor played on his beautiful grand piano, Sri Chinmoy stood transfixed in his highest consciousness. After the music, Sri Chinmoy praised the Governor as a true lover of mankind at the service of his people. The Governor urged Sri Chinmoy to come often to the island to elevate the consciousness of the Puerto Ricans.
At parting time the Governor expressed his gratitude to Sri Chinmoy for his visit and presented him with a gold medal as a memento of their friendship.
– End –
Editor's Notes:
1. The author, Agni (Mr. José Luis Casanova), was one of Sri Chinmoy's earliest disciples in the West. He was a founding member of the Sri Chinmoy Centre (Aum Centre as it was then known) in San Juan, Puerto Rico.
2. The article was first published in Chinmoy Family, Vol. 3 No. 1, pp.9-10, October 1972.