The Human Being Should Always Stay Moving
Mayrhofen "Big M" of the Zillertal
In summer 1993 the Bengali "peace philosopher" Sri Chinmoy, was a guest in Mayrhofen, who had already initiated world peace runs and peace meditations too, and who dedicates buildings of nature and of human beings all over the world to the cause of peace: part of it are the Niagara Falls, the Rhine Bridge in Vaduz, Matterhorn, Zugspitze and also the Canadian city Ottawa. 

"If we can open the right paths inside, peace can be felt here and now," the sage from the Far East formulated mysteriously and christened the Zillertalbahn to the name Zillertal Peace Railway.

The painting in the waiting-room, that the artist Toni Krauss painted for this event, shows peace doves below beaming sunshine and cheerful flower clouds, who blow their breath into the funnel of the locomotive, there passengers of different colours, which pushes the train in additions… 
* This is a literal translation of the original German text, which is currently unavailable.
* Mayrhofen is in the Zillertal (Ziller river valley) in Austria.
---
Published in Frankfurter Allgemeine Zeitung, February 6th 1997, Circulation 400,000, Insert in Journey Paper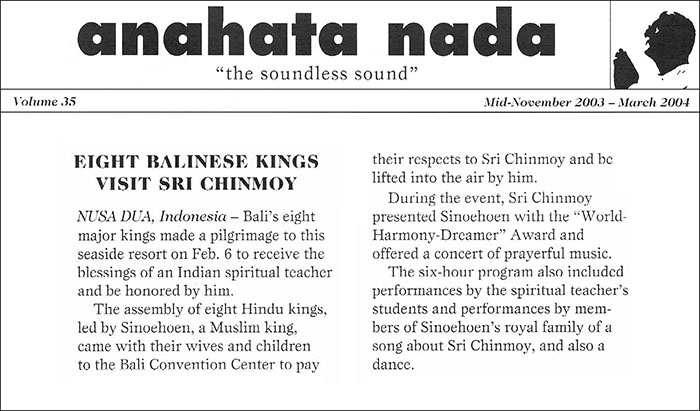 EIGHT BALINESE KINGS VISIT SRI CHINMOY
NUSA DUA, Indonesia — Bali's eight major kings made a pilgrimage to this seaside resort on Feb. 6 to receive the blessings of an Indian spiritual teacher arid be honoured by him.

The assembly of eight Hindu kings, led by Sinoehoen, a Muslim king, came with their wives and children to the Bali Convention Centre to pay their respects to Sri Chinmoy and be lifted into the air by him.

During the event, Sri Chinmoy presented Sinoehoen with the "World-Harmony-Dreamer" Award and offered a concert of prayerful music.

The six-hour program also included performances by the spiritual teacher's students and performances by members of Sinoehoen's royal family of a song about Sri Chinmoy, and also a dance.
---
Published in Anahata Nada, Volume 35, Mid-November 2003 – March 2004