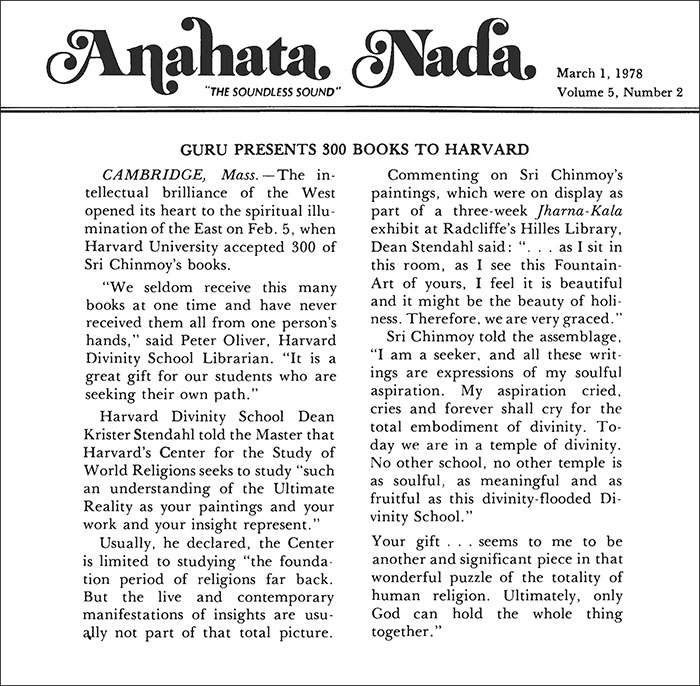 GURU PRESENTS 300 BOOKS TO HARVARD
CAMBRIDGE, Mass. — The intellectual brilliance of the West opened its heart to the spiritual illumination of the East on Feb. 5, when Harvard University accepted 300 of Sri Chinmoy's books.

"We seldom receive this many books at one time and have never received them all from one person's hands," said Peter Oliver, Harvard Divinity School Librarian. "It is a great gift for our students who are seeking their own path."

Harvard Divinity School Dean Krister Stendahl told the Master that Harvard's Center for the Study of World Religions seeks to study "such an understanding of the Ultimate Reality as your paintings and your work and your insight represent."

Usually, he declared, the Center is limited to studying "the foundation period of religions far back. But the live and contemporary manifestations of insights are usually not part of that total picture.

Commenting on Sri Chinmoy's paintings, which were on display as part of a three-week Jharna-Kala exhibit at Radcliffe's Hilles Library, Dean Stendahl said: " ... as I sit in this room, as I see this Fountain-Art of yours, I feel it is beautiful and it might be the beauty of holiness. Therefore, we are very graced."

Sri Chinmoy told the assemblage, "I am a seeker, and all these writings are expressions of my soulful aspiration. My aspiration cried, cries and forever shall cry for the total embodiment of divinity. Today we are in a temple of divinity. No other school, no other temple is as soulful, as meaningful and as fruitful as this divinity-flooded Divinity School."

"Your gift [said the Dean] ... seems to me to be another and significant piece in that wonderful puzzle of the totality of human religion. Ultimately, only God can hold the whole thing together."
---
Published in Anahata Nada, March 1, 1978, Volume 5, Number 2
KING GOODWILL ADDRESSES SRI CHINMOY AT DURBAN PEACE CONCERT
January 23rd* (Durban, South Africa). His Majesty King Goodwill Zwelithini, leader of the 8½ million Zulu people of South Africa, addressed Sri Chinmoy at the Peace Concert offered by the Indian born spiritual leader last night at the Durban City Hall. King Goodwill, whose people primarily visit the Peace Concert, are "a blessing to me and my people. He [Sri Chinmoy] is propelled by the spiritual desire to see peace reigning among our people."

Following the Peace Concert, the King told Chinmoy, "brother, brother, you cannot imagine what you have done for me and for our country! Only a few — not many — men of peace like you we need to bring peace to our country." The Peace Concert was the first Indian sponsored event ever attended by King Goodwill.

In tribute to the Zulu King, who had flown to Durban from his place in Nongoma for the Peace Concert, Sri Chinmoy's students sang a song composed by their teacher. "O Pilot-Zenith of your fond Zulu tribe. In your heart's rainbow-sky, peace promise shall thrive." This message is especially timely in that King Goodwill will be meeting in Nongoma tomorrow with President Mandela to finalise plans for a peace gathering of all the Zulu people.

Mahatma Gandhi's granddaughters, Sita and Ela Gandhi, attended the Peace Concert and have become closely connected with Sri Chinmoy. The eldest granddaughter, Sita lovingly and devotedly has accepted Sri Chinmoy's path. She wants to be a student of Sri Chinmoy's philosophy and spirituality. Also present at the concert were the Zulu Queen, Prince Sifisco Zulu, Indian High Commissioner to Durban Lata Reddy, Acting Mayor Kamal Panday, and Mr. Obed Mlaba Chairperson of the Durban Executive Council.

Prior to the start of Sri Chinmoy's peace-filled musical performance, Durban was dedicated as a Sri Chinmoy Metropolitan Area by Mr Mlaba. He stated, "For us, Sri Chinmoy, you represent the power of the heart and the spirit of God within each human being as we strive to bring goodness and peace into our lives." Just last week the Eastern Cape Province of South Africa was dedicated as a Sri Chinmoy Peace Province.

Following the concert, King Goodwill offered an interview for Radio Zulu which was aired today. During his radio address, the King encouraged all his people to change their ways by becoming more peaceful and to attend Sri Chinmoy's next Peace Concert.

Earlier this week the Pietermaritzburg City Council unanimously approved the dedication of their city as a Sri Chinmoy Peace City. It was here in 1893 that Mahatma Gandhi was mercilessly treated by the white train authorities and forcibly thrown out of the train on which he was travelling in the first-class section. Now, just over one century later, another messenger of peace has come from India to the same city, which is being dedicated to peace in his name. Here is proof that the world is progressing towards world peace!
* The Peace Concert was held on January 23rd, not January 24th as initially reported.
---
Published in Asia Online, a weekly publication from New York, No. 108, Vol. II. Feb 05 – Feb 11, 1996